Turbiot™ Wide Area Wireless IoT System
Turbiot™ wide area wireless IoT system is a overall wireless IoT solution based on hightech LPWAN technology,
compatible with LoRaWAN™ standard,adopts advanced network architecture.
Turbiot™ system can realize the wide area IoT network coverage and various applications in low cost.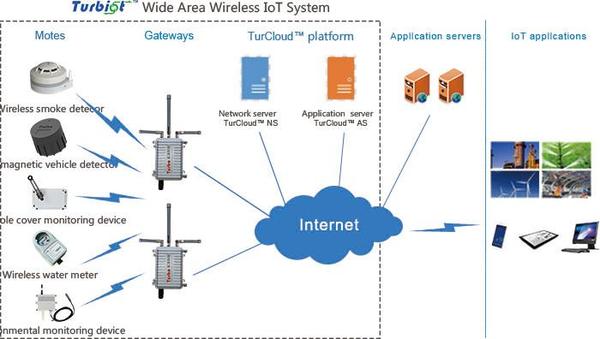 Turbiot™ system includesthree components , motes, gateway and TurCloud™ platform. The basic architecture is as follows:
l Mote , which is composed of sensor/controller and wireless transceivers,is the key component of IoT application.
l Gateway, which is responsible for the communication between motes and TurCloud™platform.
l TurCloud™ cloud platform,includes TurCloud™ NS(network server)and TurCloud™ AS(application server).
TurCloud™ NS is responsible for the network management and devicemanagement , providing management and data service to
application server (including TurCloud™ AS or other applicationserver); TurCloud™ provideservice to some private or common
applications.
The main paramters and characteristics of Turbiot™ system:
l Gateway
working frequency: 137~1000MHz
bandwidth: 125KHz
Transmit power: maximum 23dBm (200mW)
Link budget: 157dB
Data rate: 0.3~50Kbps
Coverage: over 15Km ( sight distance)
Capacity: >200 thoudand motes per gateway
Adaptable power and rate adjusting
Support star and celluar networking
Support LoRaWAN™
l Mote(tansmission)
Transmit power: 2~17dBm
Emission current: 100mA@17dBm
Receive currrent: 16mA
Standby current: <2uA

Support LoRaWAN™
l TurCloud™ platform
Advanced cloud-comuputing platform architecture
high concurrency, hing capacity, server cluster
high availablity, redundancy backup, zero downtime for maintenance
scalability, daymaci adjust load and service ablility
Abundant interface
support HTTP, MQTT, WebSocket access
support access mainstream IoT cloud platforms
support LoRaWAN™ specification, coform to oneM2M specification
Turbiot™system currently supports the LoRaWAN™ motes connection, it will provide moreM2M access methods, and adopts some new technologies like Massive-MIMO toimprove system's capacity and coverage range.