LPWAN and LoRaWAN™
LPWAN has emerged as a revolutionary IoT access technology in recent years in the world, which is specifically designed for M2M communication optimization andapplies to wireless transmission scenarios which are battery powered, low rate, low duty cycle, start networking. LPWAN has many outstanding characteristics , such as long range, low power consumption, low operating cost.
Cpmpared to traditional technologies like Wi-Fi, Zigee, Cellular mobile network, LPWAN can meet connection requirements of most typical IoT end devices, LPWAN can realize wide
area IoT network coverage in low cost.

LPWAN is a relative concept towards 2G/3G/4G/5G and other WWAN technologies.
At present, LPWAN technology has not become a unified standard, Sigfox, LoRaWAN™ and NB-IoT are typical representatives.
Comparison between LPWAN and traditional wireless transmissiontechnology.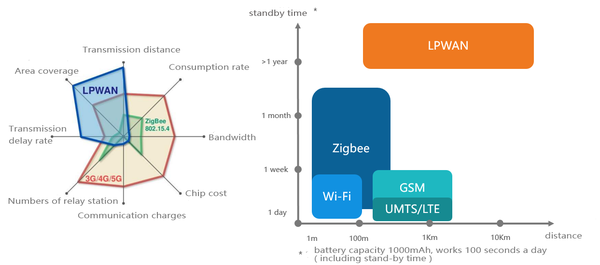 LoRaWAN™
The LoRa Alliance is an open, nonprofit association that has grown to more than 400 members since its inception in March 2015,
it was initiated by industry leaders like IBM, Cisco, KPN, Semtech, with a mission to standardize LPWAN (named LoRaWAN™) being
deployed around the world and enable commercial use of LoRaWAN™ technology.
LoRaWAN™ adopts LoRa® technology (patented by Semtech), LoRa® is based on spread spectrum modulation, which maintains the same low power characteristics as FSK modulation, but significantly increases the communication range, and has capability of high anti-interference. The main features are as follows:

l Link budget 157dB (Sight distance>15km)
l Receive current 16mA, standby current 200nA
l Transmit power 20dBm (100mA)
l TDD working mode
l Adaptable power and rate adjusting
l Support locating and ranging
l Star connection
l Unlicensed radio spectrum
At present, LoRaWAN™ is the most active standard in LPWAN, dozens of LoRaWAN™ commercial networks have been deployed all over the world. Multiple operators have been deployed or deploying nationwide LoRaWAN™ network, including Proximus, Orange, KPN, SKT, Softbank.