The Internet of Things

The concept of Internet of Things ( IoT) was proposed in 1999, it is very simple at the beginning, that is to realize the connectivity of almost any objects in the world to the Internet through information sensing technology like RFID , intelligently identify and manage the objects.
Today, we think the essence of IoT is a wide connectivity network among peoples and objects using new sensor and communication technologies, and result in various applications and services.
The driving force of IoT includes: internet/mobile internet,industry4.0,intelligent,environmental protection and energy conversation.
IoT becomes the third wave of the development of world's information industry since the emergence of computer and Internet.
Basic components of IoT: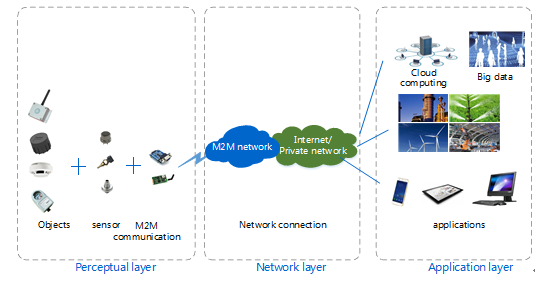 IoT = sensor+ transmission+ application
Note: M2M, that is Machine to Machine, usually includes RFID, Zigbee, Wi-Fi, mobile cellular network and other connection modes.
Typical IoT applications includes:

Market Opportunity of IoT:
Multiple market-research firms forecast, global networked IoT device will reach 50 billion by 2020 and the demand is huge.
In the case of smart city, there are more than 500 cities are constructing pilot projects in China, and the investment scale amounts to trillions RMB.