DBF(Digital Beam Forming) Phased Array Radar
Speed measuring radar utilize Doppler Effect to measure the speed of vehicles. Radar emits micro/millimeter continuous wave, which reflects when hit an object. The relation between the frequency of reflection signal and object's speed and direction can be formulized. By detecting the reflect signal's frequency, we are able to measure object's speed and direction.
f ' = f * [(c+v)/(c-v)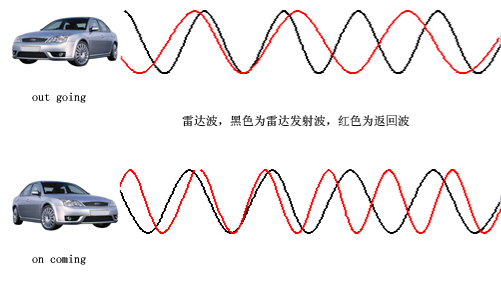 To check the frequency of received signal, we adopt digital signal processing. We digitalize the received signal and then applies discrete Fourier transform to get the frequency....
Current speed measuring radar products majorly use single antenna continuous wave radar technique. They either measure vehicles 'speed in single lane or cannot accurately distinguish the speed of different lanes when used at multi-lane environment.

Phased-array technology is a state-of-the-art technique that widely applied to military radar. Digital Beam Forming technology is a hit in recent research for military phased-array radars. It adopts large scale antenna array and high intensity digital signal processing technology to satisfy various strict requirements of military radars. It can increase the ability in low radius speed objects, increase the space coverage of radar and performs well under complex terrain environment. But for the complicated technology and high cost, they are rarely used in business radars.

DBF is developed along with the phased-array antenna technology. In early times, number of antennas and number of digital signals to be processed are very large, results in a high cost in computing. Recently, with the rapid development of DSP, FPGA, computing power is largely increased. Additionally, with the development of smart antenna in communication system, number of antennas needed is decreased. All these factors contribute to the fast development of DBF, making it more and more applicable.

Our company combines phased-array antenna technology, DBF technology and other state-of-the-art technology, produces a high reliable low cost business radar, achieving an upgrade for the whole business radar industry.

Multiple patch antennas are used to receive reflected radar signals. Different beams are formulated by weighting the amplitude and phases of signals received from different antennas. Each beam is correlated with one lane and analyzing the beams can get the traffic info of each lane.

DBF is used to formulate multiple signals to form different beams. It samples the mixing signals received from each antenna, weighting the amplitude and shifting the phases and then forming beams individually. In this way, each lane forming a beam. Details of the process is:

Suppose receiving antennas are N dimensional uniform linear array, denote by θ the orientation of oncoming wave, θk is the k'th beam's orientation. Denote by d the distance between adjacent arrays, λ the wavelength. Every array unit is homogeneous. Denote by w1k,w2k...wnk the weighting of the k'th unit. Signals are narrow band signals. Denote xi by the i'th received signal after A/D transformation and quadrature demodulation where wik=aiexp(-jΔΦk )and ΔΦk=(2π/λd)* sin(θk) is the phase offset. Denote by ai the amplitude weighting. After phase offsetting and amplitude weighting, we can get:

The magnitude of the above formula is the k'th beam'sradiation pattern. Using different weighting wik we can get different radiationpattern. Each radiation pattern corresponds a single beam for a certainorientation. Parallel processing algorithms can ensure those beams working atsame time. Simply put, DBF is a multiplier and accumulator with a structurelike the below: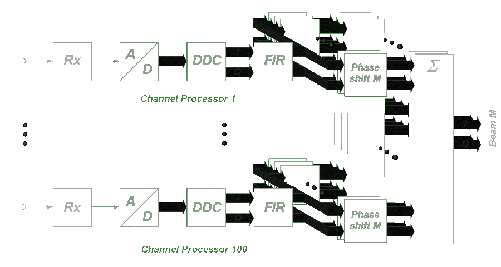 Finally, the effects are: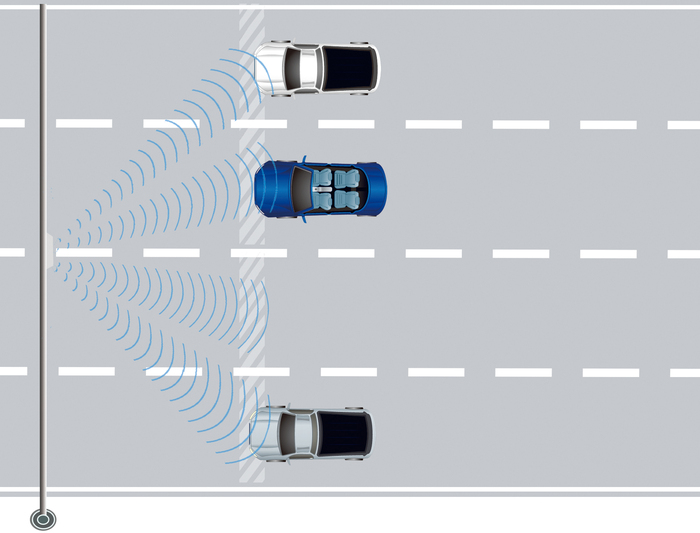 We can tell from the above figure that by only using asmall number of antenna, we can form three or more beams. With each beamtargeting on each lane, we can track traffic info for multiple lanes. We fullyutilize info received from each antenna channel. That is why we use fewerantennas and receiving channels to achieve effects of many antennas andchannels